Industrial Sling Manufacturer in SK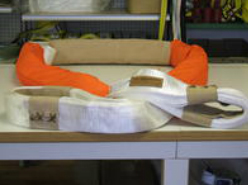 For over 20 years, Eastern Air Supplies has been a manufacturer distributor of lifting equipment for the mining industry and other industries such as trucking, power, rail, air and metal fabrication. We also have a full line of recovery straps from 6000lb to 400,000lb for agricultural and construction applications. Eastern Air Supplies provides these industries with high quality, competitively priced products.
Eastern Air Supplies uses the highest quality webbing and hardware. You'll find our staff is very committed to producing the best product on the market. If you need it, we can build it. It may be leather to protect it or a cover to save it. Give us a call--our technicians will get it right and we have a quick turnaround time. Our precise, comprehensive services compliment all of our products.
Web Slings
We manufacture web slings. We have a complete line of nylon lifting slings from 1" to 12". There are several different types, including eye and eye, eye cargo, basket hardware, choker hardware, endless, reverse eye, and stone handling slings to name just a few. These are often used in construction and transportation applications.
Nylon Tow Straps
We have a wide variety of nylon tow straps from 6000 lb to 300,000 lbs. Custom lengths are available on request.
Ratchet Sets
Eastern Air Supplies has ratchet sets available in any length 1" to 4". These include:
Bar hooks
Flat hooks
D-rings
Chain Ends
Stenciled Working Load Limit
Cargo Nets
Finally, our Canora air supplies company has cargo nets available. These work well for many purposes, including supporting large loads of boxes, containing the contents of a trunk or hatchback, organizing materials, or holding in the contents of a truck bed. We have any size available and can custom cut them to right size. Each net can be fastened with metal buckles, hooks, or Velcro, depending on the size and weight capacity.